The Bill Tutte Memorial, by the acclaimed sculptor Harry Gray, cleverly incorporates cryptic and subtle references to Bill Tutte and his achievement. The principal feature of the memorial is an array of six brushed stainless steel panels, approximately 7 ft tall and perforated to resemble punched paper tape, symbolising the medium in which Lorenz coded messages were transmitted.
Arguably, the panels form a work of modern art in their own right. However, when viewed from one particular direction, suggesting the unique approach he took to the problem of solving the Lorenz code, Bill Tutte's features appear in the pattern of holes.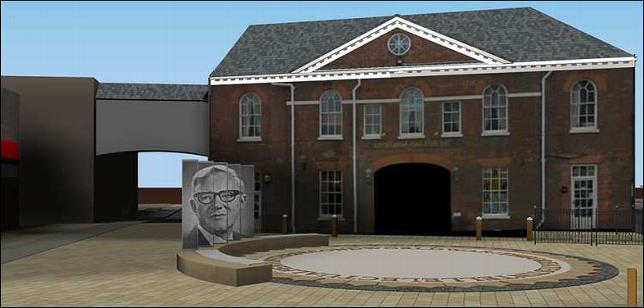 The key view point is marked on the pavement by a "Squared Square" in reference to the mathematical puzzles that inspired Tutte in his early days at Cambridge University.
On the ground in front of the steel panels is a 41-toothed wheel representing Tutte's initial breakthrough in determining the structure of the Lorenz machine. Inside the wheel, the words ONE OF THE GREATEST INTELLECTUAL FEATS OF THE SECOND WORLD WAR! are written in a manner difficult to decipher.
Bench seats are provided next to the panels to allow visitors to sit in contemplation of Tutte's achievements.
Any vehicle or cycle traffic is routed behind the panels, with an open public space in front.
Bill Tutte's achievements, including his later career as a distinguished mathematician, are described adjacent to the memorial on an information board that includes a QR code for smart phone access to the website, a technology he would have appreciated.
There are 8 special bollards, each carrying a different message, can you Decode the Bollards!
Construction
The pictures below show the stages in construction the Bill Tutte Memorial Site.
Please click on an image to view it full-size with a description.
The Unveiling – 10th September 2014
The pictures below show some of the highlights of the day.
Please click on an image to view it full-size with a description.